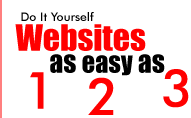 Will you help me get started?

Do I need to know any programming languages to create this web site?

What kind of content am I allowed to put on the web site?

Can I have my logo and any pictures on my web site?

What if I want something in addition to what the package offers?

I see a template design that I like but would like it to be in a different color. Is this possible?

I like the idea of having an easy to update web site but want to have a design of my own. Is this possible?


Design